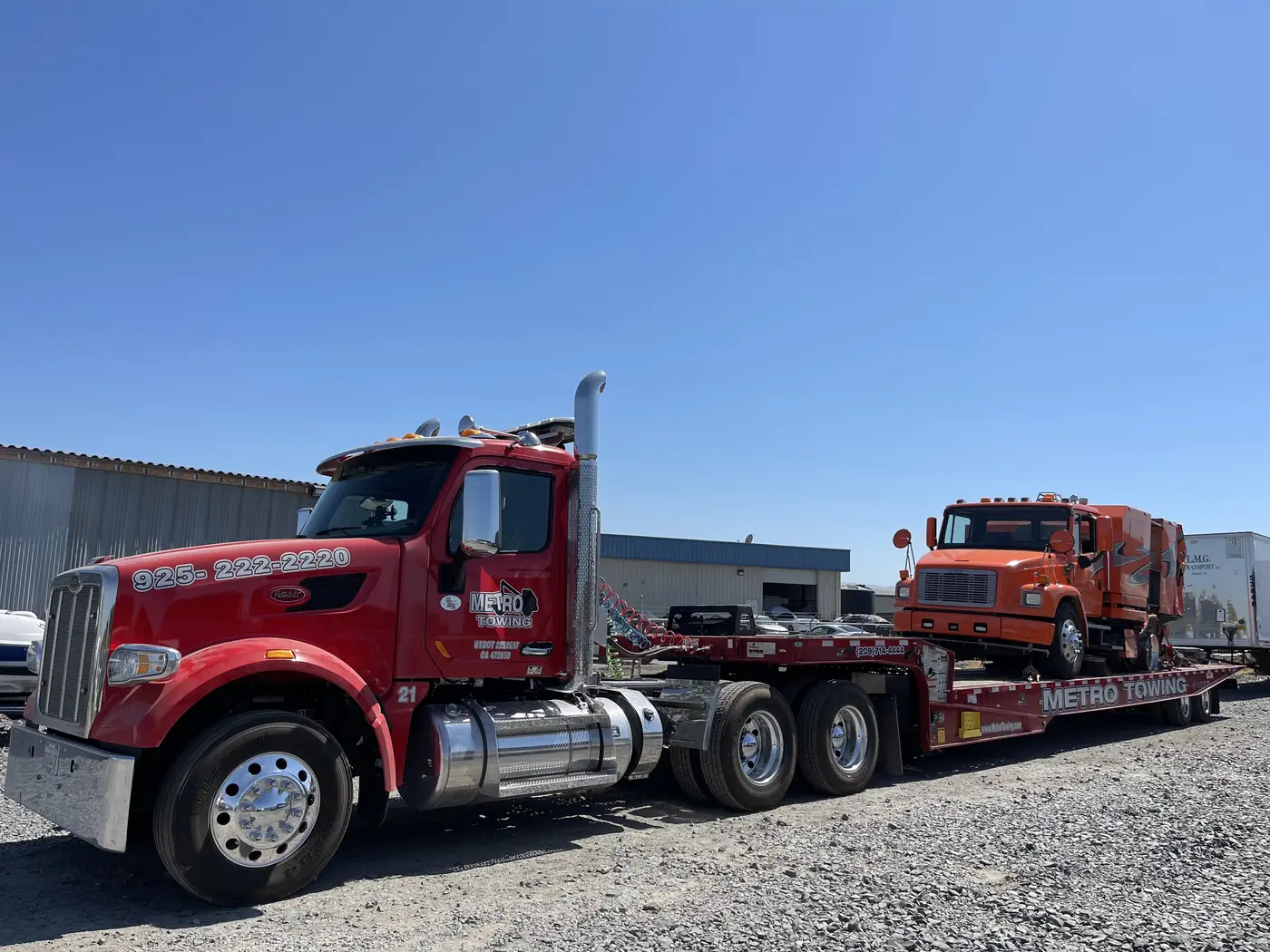 Available 24 Hours A Day To Assist You With Emergency Road Service, On-Site Repairs, Towing Services, And More!
Services
"Metro towing was the only company willing to accept my job's insurance and took care of business." ~Eric Webster
Reliable Tire Service Near You
Your tires are the only part of the car that has direct contact with the road. Tires affect your vehicle handling, ride, braking, and safety. For optimum performance, tires must have the correct air pressure, tread depth, and balance and the wheels of the vehicle must be properly aligned.
Always inspect your tires before a long trip. The more often these inspections are performed, the easier it will be to find a small problem, such as a nail in your tire, and fix it before it becomes a more expensive and time-consuming issue.
Tire Advice From Metro Towing
What type of tire should I buy?
The size of your vehicle and the conditions under which you'll be driving will determine which tires are best suited for your needs. See your Service Advisor for expert advice.
How old is the tire I'm buying?
All tires have a DOT Tire Identification Number (TIN) on the sidewall. The last four digits represent the week and year the tire was made. NHTSA recommends checking this date when purchasing tires, along with knowing the vehicle manufacturer's recommended tire replacement timeframe. Look on both sides of the tire. The TIN may not be on both sides.
What size tires should I buy?
Check your owner's manual or the Tire and Loading Information label located on the driver-side door edge or post to find the correct size for your vehicle.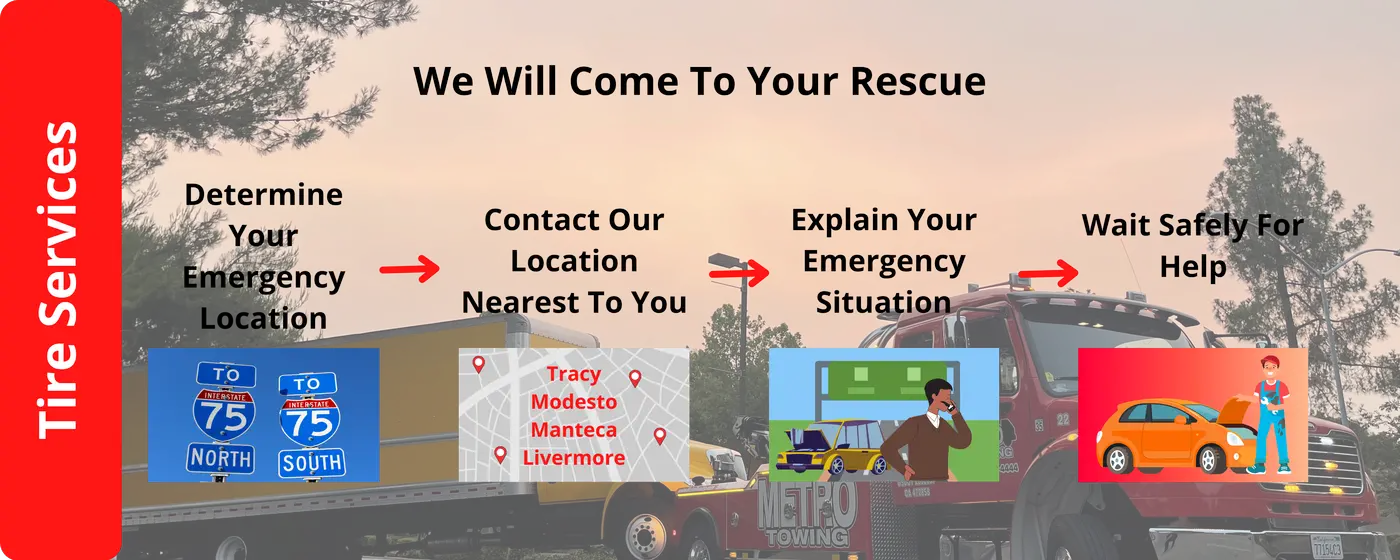 Our Tire Service Gets You Back On The Road
Checking your tires on a regular basis is an important step in protecting your safety and your automotive investment. Ideally, tire inspections should be performed monthly. If you drive over potholes and debris on the road, live in a cold climate, or drive long distances regularly, then you should inspect your tires more often.
24-Hour Road Service
Competitive Pricing
Spare Tire Services
Service for Light-, Medium-, and Heavy-Duty Vehicles
Air-Inflation Parts/Service
Truck Alignment
Foam Fill
Flat Tire Repair
Tire Rotation
Tire Pressure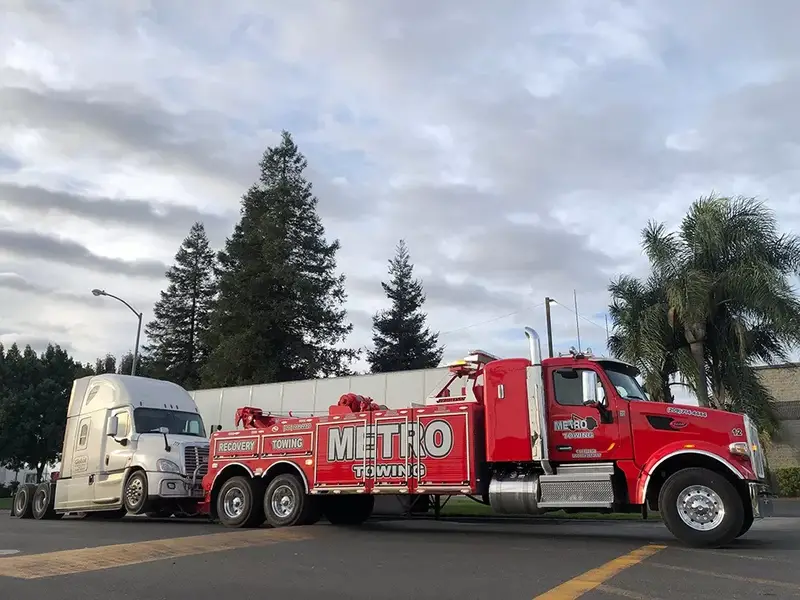 Towing vehicles since 2003.
Since our start in 2003, we've exploded from one location to four, all equipped to give you the towing, roadside assistance, and recovery that you need. With locations in Tracy, Manteca, Modesto, and Livermore, Metro Towing drivers are available all throughout Central California.
With ten trucks and almost twenty years of experience, our team can't be beaten. Call for all your medium and heavy-duty towing needs.

Latest From Our Blog
Car Troubles? The Best Tips on Preparing Your Car For Towing If you are […]

Unless you are a member of that respective profession, jargons tend to fly right […]

Locked Out Again? Follow These Simple Steps Never To Get Locked Out Of Your […]