The mere thought of heavy equipment transportation will most certainly have you running for the hills. However, you only consider this because you have something massive you need to move carefully and hassle-free.
It can be a daunting challenge exasperated by the added stress of the respective state laws and regulations governing heavy equipment transportation. However, there is hope, primarily if you reside in the Central California environs.
Metro Towing, which operates from 4 locations (Tracey, Manteca, Modesto, and Livermore), is not only home to a host of full-service towing, we also specialize in heavy equipment transport. We know all the required regulations, and we seamlessly transport your heavy equipment utilizing our Landoll 440B Tandem Axle Trailer.
What is a Landoll Trailer?
The Landoll "Travelling Axle" trailer was created in 1969 by its namesake owner and founder of Landoll Corporation, Don Landoll. The trailer's design features the lowest load angles in the industry. This ground-loading concept continues to thrive today in a myriad of industries, such as towing, rental, construction, agriculture, construction heavy equipment hauling, and storage containers.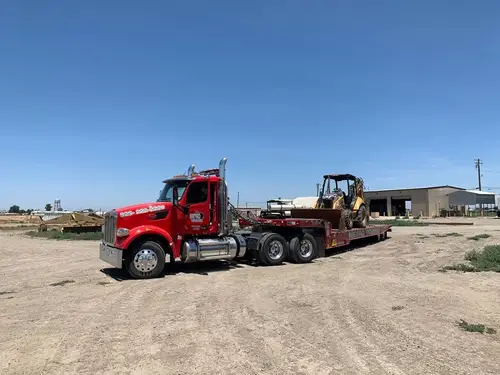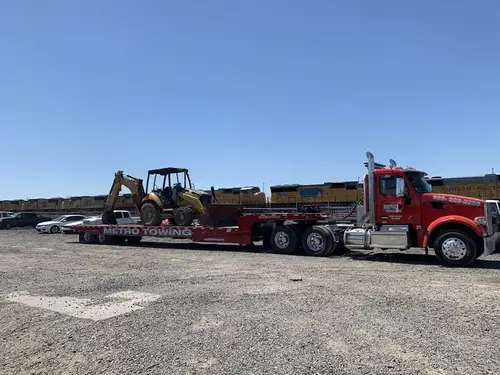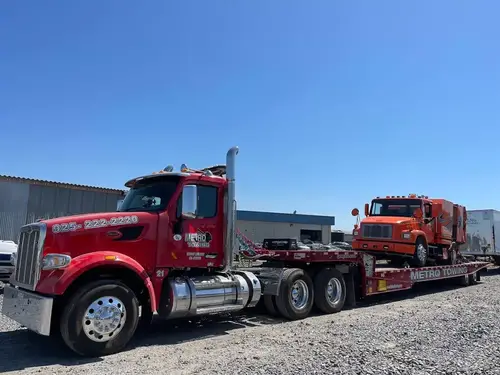 What Does a Landoll Trailer Do?
Landoll specialty trailers are great for hauling oversize equipment due to their featured low angle loading from the rear of the trailer feature. Landoll trailers are the preferred choice for moving extra-large heavy equipment. They're usually slightly more expensive to use due to supply and demand. Still, they never fail to execute a perfect haul.
The Landoll trailers are not only defined by their groundbreaking technology but also by their flexibility. Though the framework of the trailers is all of the same base design, Landolls have become known for their variety of models. These include traveling axe trailers, detachable gooseneck trailers, traveling tail trailers, bottom dump trailers, utility tag trailers, and industrial tag trailers.
Our Landoll
Our in-house Landoll is a 440B is Tandem Axle Trailer with a Capacity of 40 tons (80,000lbs), which is well within the legal limits of the state's laws. Depending on what you need to be shipped, the Landoll trailer supplied by Metro Towing will safely transport your: specialized industrial hauling, truck recovery, excavator transportation, and construction equipment.
Our Landoll handles rugged equipment, including but not limited to Super Low Clearance Pavers with an easy One-Man Operation. Equipped with 30,000 lbs. Warn, Planetary, 2-Speed Hydraulic Winch for quick loading. Our Landoll's Neway Air Ride suspension ensures smooth, safe transport of your equipment.
Why Landoll Transportation
Landoll Trailers are the consummate heavy equipment transport vehicle. The Landoll Company has crafted a design so functional that, since its debut, it has yet to be surpassed by its counterparts.
Just as Mr.Landoll created this spectacular trailer by solving a problem for his friend, we here at Metro Towing diligently work to solve all your towing and heavy equipment transport needs.
Learn More at Metro Towing Heavy Equipment Transport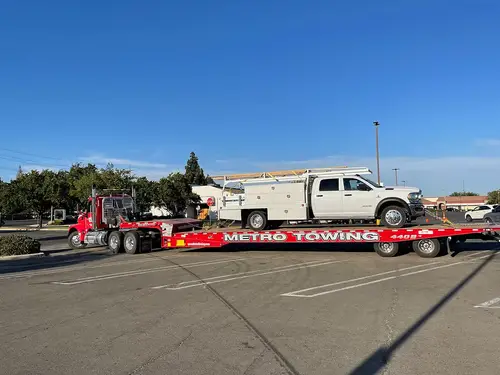 Give us a call now at any of our locations:
Tracey (209) 714-4444,
Manteca (209) 714-4444,
Modesto (209) 554-7099,
and Livermore (925) 222-2220