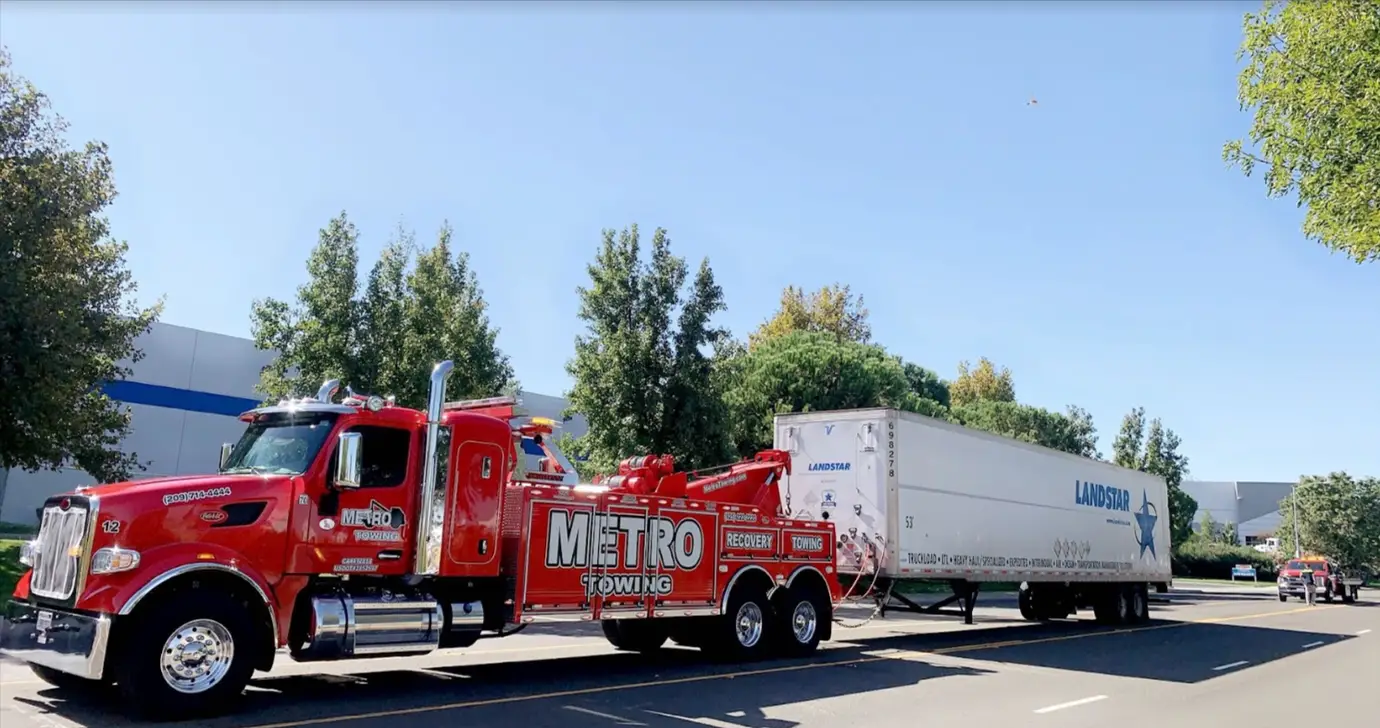 MANTECA (CA) TOW TRUCK SERVICES
Available 24 Hours A Day To Assist You With Emergency Road Service, On-Site Repairs, Towing Services, And More!
Need Help?

Call us, regardless of the service or situation
1
Speak with a Service Advisor
Our Service Advisors are experienced and trained to understand your situation and get the information they need to set you up for service
2
Get Assistance

The Service advisor dispatches a qualified tow truck operator with the proper tow truck to get the job done.
3
Back on the road

Our team will get you to your destination safely and securely so you can get to your family.
4
Need Help?

Call us, regardless of the service or situation

1

Speak With A TSA

our technical service advisors (TSA) use their extensive training to understand your situation

2

Get Assistance

The TSA dispatches a qualified technician from our extensive network

3

Back On The Road

Our team handles invoicing and record keeping so you don't have to

4
METRO TOWING MANTECA
Towing Services in Manteca, California
Manteca, California, also known as the Pumpkin Capital of the state, is home to 85,792 residents. Manteca is a growing suburb of San Joaquin County and has captivated the hearts of many residents as the perfect place to raise a family. What better place to live or work than the most festive and family-friendly city in San Joaquin County?
Metro Towing was established in 2003 to provide the city of Manteca with affordable and reliable auto repair and towing services. Since then we have worked with thousands of happy customers on getting them back on the road safely. We value you and your valuables.
At Metro Towing, we make ourselves available day and night to ensure that you will always have us on your side. Our work is done when you and your automobile are taken care of. Give us a call today and see why Manteca residents prefer us over our competitors!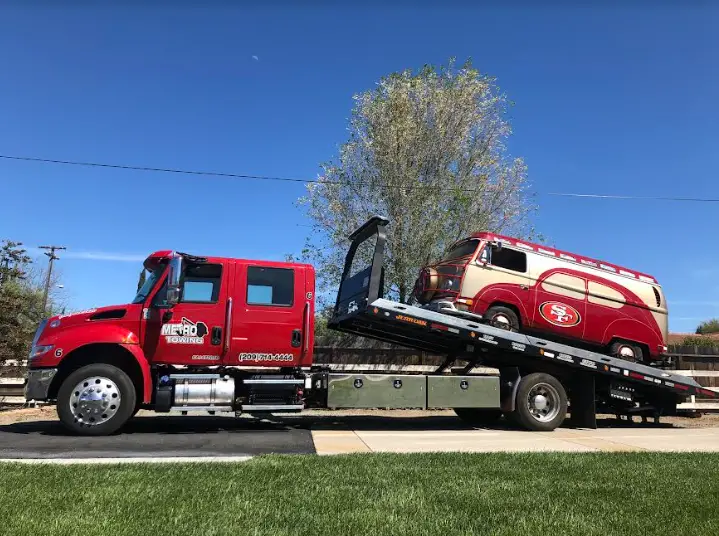 Offered Towing and Roadside Assistance Services in Manteca
Metro Towing offers 24/7 roadside assistance, preventive maintenance and towing services. We focus on road safety but also offer locksmiths and vehicle maintenance services. We are available 24/7 to care for any automotive problem you might have—whether it's a flat tire or lock out, dead battery or something not starting. If your car needs immediate attention, we'll be there for you!
Metro Towing provides efficient and affordable roadside assistance to people in Tracy and the surrounding areas. With over 10 years of experience, we can handle all your towing needs—from a simple jumpstart or flat tire change, to more complicated salvage services for damaged cars that require transportation from accident scenes.
We aim to provide top-notch service in the car repair industry so that your vehicle is back on the road as soon as possible. We understand that you don't want to get behind the wheel if you are not sure whether or not your car is going to start. With our services, you don't have to worry about any of that. We'll get your car in tip-top shape and back on the road in no time!
At Metro Towing, we offer unbeatable tow service, roadside assistance, and quick recovery of your vehicle anytime! For more than a decade, we have helped thousands of customers with their transportation needs. Give us a call today! Metro Towing is here for you 24 hours a day, 7 days a week. If you need towing or locksmith services in Manteca, CA contact us today—we'll be happy to help!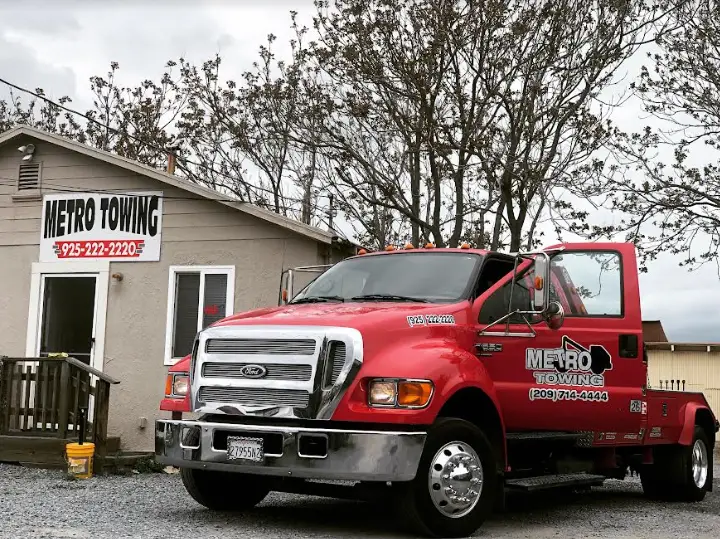 24/7 On-Call Towing Servies in Manteca, California
Metro Towing, your first choice for towing services in Manteca, California. When you need a roadside assistance vehicle towed quickly and efficiently, Metro Towing is available 24 hours per day with fully trained drivers ready at a moment's notice to help you.
We pride ourselves on the knowledge, experience, commitment and reliability of our staff—each one is dedicated to making sure your needs are met. We'll go above and beyond when it comes to tug assistance, tow trucks or car recovery/stranded traveler service 24 hours a day 7 days a week!
Metro Towing has been named the most reliable towing company in Manteca. We are licensed, bonded and insured, so you can rest assured that we will get your car back on the road quickly. When it comes to getting you where you're going safely, we've got experience, expertise and unbeatable prices. With full service for any vehicle situation—from routine maintenance to roadside assistance—you can count on us.
We provide quality equipment, professional drivers, and friendly customer service. Our staff will help you with your towing needs quickly and professionally.
Metro Towing was created with the goal of providing possible customers with unparalleled customer service, while also offering unbeatable prices. We have hundreds of loyal customers and people love us! We provide quality equipment, professional drivers—and friendly customer service. Metro Towing's staff is ready to assist with any type of vehicle. With our years of experience, no job is too large or small—and we provide unbeatable prices so you can choose us as your trusted towing company.
Give us a call today and witness the Metro Towing gold standard service for yourself!
24/7 Emergency Road Services in Manteca
Metro is on call 24 hours a day, 7 days a week.

Whenever you need assistance, our fully licensed and dedicated towing personnel are always on hand to assist you.

Our dispatch team can aid you in any situation, once you contact us, we will locate and contact the nearest towing driver.

If your vehicle ends up off the road in a situation that requires special equipment, you can count on us for recovery towing services.

Breakdown on the interstate, miles from your destination? We have heavy-duty drivers on call to respond quickly to your needs

24-hour car door locksmith. we unlock cars, fix car doors, and replace car keys. highly skilled and ready to assist.

Maintaining your fleet can cut down on repair costs and lead to higher productivity, saving you lots over the life of the vehicle.
Vans, automobiles, heavy-duty trucks, small teams, and national fleets, every enterprise relies on preventative maintenance services.

We have a team of highly qualified technicians who have years of experience working with domestic or foreign vehicles.

Unexpected events often occur you can count on our professional team to get you safely back on the road as soon as possible.
Our team is committed to getting you back on the road safely and cost-effectively.

Why Choose Us?
At Metro Towing, we're here to help you with any of your roadside assistance needs. We offer 24-hour service in Manteca and throughout northern California so that no matter what time of day it is, our friendly operators can dispatch a tow truck or flatbed driver immediately—and get you back on the road.
Our skilled technicians can handle any job, from a minor repair to an accident cleanup. Our trucks are well-equipped with everything we need for any type of vehicle rescue or recovery—including parts and tools that get your car back on the road quickly.
We offer several automotive repair and maintenance services, including 24/7 roadside assistance; preventive maintenance checks; locksmith services; tire service; and mobile repairs. Our team of professional mechanics is experienced in a wide range of automotive services, including jump starts and tire changes. They can also help you if your vehicle becomes stuck or disabled during an emergency.
Metro Towing of Manteca, CA is committed to delivering efficient and reliable service. Whether it's a minor repair or a full recovery, we are the company you can trust to get the job done right.
You should always feel comfortable, assured, and secure when choosing a tow truck company. The last thing you want is to call someone who provides services that are too expensive for what they're worth! At Metro towing, you don't have to worry about that! That is why Metro Towing has been in business for 10 years—we're dedicated to offering our customers fast, friendly service at reasonable rates.
We've grown a lot over the years, but our commitment to customer satisfaction has remained strong. It's what sets us apart from other companies in this industry.
01.
Reach Your Destination Without Worry.
24/7 Roadside Assistance so you'll never have to question our availability or our commitment to your needs
Customers
Completely Satisfied

Vehicles Towed
Safely to destination

Tow trucks
Ready to serve you
Years Of Experience
Getting you to safety
02.
Testimonials
Read what some of our customers say about our service
"He made it to our area in a speedy amount of time, gave me a ride to where our car was parked, and got our car to its destination without any issues."

"Metro towing was the only company willing to accept my job's insurance and took care of business."

"Alex with Metro helped me tow my completely dead electric vehicle – twice now."

"Ramzi really helped me out when I got a flat. He was extremely helpful and gave me very useful suggestions about the next steps."

"I locked my keys in the car and needed assistance. I was connected with this company through my car insurance and they were great!"
03.
Roadside Assistance You Can Count On
04.
Serving Manteca, California since 2003.
Stranded in the middle of nowhere? Automotive breakdowns can happen at the most unexpected times, that's why you can count on Metro to be there 24 hours a day, 7 days a week. Given our multiple locations in the Tri-Valley, we're positioned to be there for you quicker than any other tow service.
Frequently Asked Questions
Yes, we offer jump-start services as part of our roadside assistance in Manteca, CA. If your vehicle's battery dies, our team can quickly and effectively jump-start your vehicle so you can get back on the road.
Yes, our experienced team of drivers and state-of-the-art equipment allows us to tow vehicles that are parked in tight spots in Manteca, safely and efficiently. We have specialized equipment and techniques to navigate tight spots and minimize any potential damage to the vehicle.
If your car breaks down on the highway, the first thing you should do is pull over to a safe location, turn on your hazard lights, and call for roadside assistance. Our team can quickly respond to your location on the highway and provide emergency towing or roadside assistance as needed.
We recommend that you provide as much notice as possible for a scheduled tow in Manteca, CA. This will allow us to plan and prepare for your specific towing needs and ensure that we can provide the highest level of service. However, we understand that emergencies can happen at any time, and we strive to be as flexible and accommodating as possible for our customers.